Pocket squares have been a staple of men's fashion for centuries. They originated in ancient Egypt, when red linen cloths were worn as a status symbol. These days, they are mostly used for decoration and come in all shapes and sizes. If you're looking to make your outfit pop with some color, here is what you need to know about the best pocket squares for suits.
What Are Pocket Squares?
Whether you want to match your outfit or just add some flair to the look, this fashion accessory can really make all the difference in how well you dress. In this post we will explore what they are and where they come from as well as go over some of the best styles for suits, shirts and ties so that you never need second guess what goes with what ever again!
Pocket squares are a small, triangular piece of fabric that is folded and placed into the front pocket of a suit jacket or blazer. They come in many different colors and patterns, which makes them a great way to add personality to an outfit.
History of Pocket Squares
The first pocket squares appeared in Antiquity in Egypt or Greece. Colored with red dye, they were an accessory that indicated an elevated social rank. King Richard II of England, who reigned from 1377 to 1399 is thought to have invented the pocket handkerchief, to wipe his nose.
As men's fashion evolved, so did the use of pocket squares. In the 1930s, they began to be used as a way to add color and personality to an outfit.
Screen icons such as Cary Grant, Fred Astaire and Humphrey Bogart all wore pocket squares regularly. Today, pocket squares are one of the most popular accessories for men's formalwear.
They are enjoying a renaissance thanks to TV shows such as Mad Men. The character of Don Draper is rarely seen without an elegant pocket square. James Bond movies also frequently feature pocket squares, for example in Spectre.
Types of Pocket Square
Patterned pocket squares add a touch of color to your outfit, so they work best when you already have the dominant colors in the rest of your ensemble taken care of. Lean toward a simple pattern in cool tones such as white, pink, lavender and light blue. For warmer tones, choose patterned pocket squares in bright reds, oranges, yellows and greens.
Popular patterns for pocket squares are paisley, polka dots, floral and nautical motifs.
Monochromatic pocket squares are another way to add color to your outfit. Instead of contrasting colors, these pocket square fabrics share one dominant hue throughout the entire piece of fabric. This look is best for outfits that are all one color.
No matter what type of pocket square fabrics you choose, make sure that it is wrinkle-free and pressed well. This will help to ensure that your pocket square looks its best when you wear it.
Pocket Square Sizes
Pocket squares come in a variety of sizes, so you'll need to choose one that will fit comfortably in your pocket. The most common size for pocket squares is 10 inches by 10 inches.
The general rule for pocket squares is that the bigger the square, the more formal the outfit. For a very formal outfit, you might want to go with a pocket square that is 12″ to 16″ on each side. For a less formal outfit, you could go with something in the range of 8″ to 10″.
There are also different shapes that pocket squares can come in. The most common is the square, but there are also circular, triangular and rectangular pocket squares. The more formal the outfit, the more likely it is that a triangular or rectangular pocket square would be appropriate.
Pocket Square Fabrics
Pocket squares come in different materials such as silk, cotton, linen, and wool. Cotton and linen are both very versatile materials and can be worn with a variety of outfits.
As a general rule of thumb, silk and linen pocket squares are for more formal occasions. These refined pocket squares are typically more expensive than cotton or wool.
Here are some of the most common types of pocket square fabrics and when they are best worn:
1. Silk Pocket Squares
Silk squares are the classic option, and are perfect for dressier occasions. They add a touch of elegance to any business or formal outfit.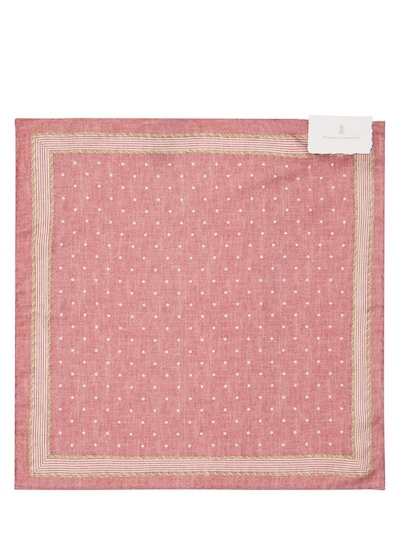 2. Cotton Pocket Squares
Cotton pocket squares are great for casual outfits and weekend wear. They also provide an easy way to introduce texture into your outfit.
3. Linen Pocket Squares
Linen pocket squares are the most casual of all the pocket square fabrics, and are ideal for summer wear, especially in hot weather locales. Because linen is so breathable, it feels cool against your skin even when it's hot outside.
4. Seersucker Pocket Squares
Seersucker pockets squares are great for summertime wear as well, but they have a slightly dressier look. They go particularly well with both seersucker and gingham suits.
5. Wool Pocket Squares
Wool pocket squares work best in cold weather, as wool is a very warm fabric. It's the best choice for winter and fall wear.
6. Fabric Blend Pocket Squares
Examples of this are cotton silk blends, cotton and linen or wool and mohair. Generally, these pocket squares will be easier to care for than pure silk pocket squares.
Pocket Square Rules
Here are a some important things to know about pocket squares:
D

on't wear a tie and pocket square with an identical pattern and color. It will look too matchy matchy!

Go for a little bit of contrast.
Fold the pocket square in a way that showcases your outfit. There are many different ways to fold pocket squares, so choose one that fits your style.
Don't be afraid to experiment with different styles and colors.
Pocket squares should complement the rest of your look, not dominate it.
When putting on a jacket, make sure the pocket square is visible.
Keep it neat. Make sure the edges of the pocket square are straight and the fabric is wrinkle-free.
The Best Pocket Squares for Suits
When choosing a pocket square for your suit, it's important to consider the color and pattern of the fabric. You want to choose a pocket square that will complement the color of your outfit, not clash with it. Here are a few tips on how to match a pocket square to your suit:
If you're wearing a navy blue suit, try pairing it with a white or light blue pocket square.
If you're wearing a dark grey suit, try pairing it with a light grey pocket square.
If you're wearing a brown suit, try pairing it with an earthy colored pocket square such as olive green or tan.
Pinstripe or check suits usually work best with fairly plain pocket squares. The exception is if you choose colors that match the suit perfectly.
Conversely, patterned pocket squares look great with plain suits. Brighten up a navy suit with a stylish accessory such as the Drake's silk-cotton pocket square from Italy below.
Tuxedo Pocket Squares
Pocket squares are a great way to add a touch of personality to your tuxedo. There are a few things to consider when choosing pocket squares for formal events, such as color, size and fabric.
When it comes to color, a black or white pocket square is the most classic option for black tie events. However, you can also choose pocket squares in other colors, depending on your personal style.
There are some things to avoid when choosing pocket squares for a tuxedo. Don't opt for pocket squares with busy patterns or logos, as they will distract from the elegance of the tuxedo. Also avoid pocket squares that are too large or too small.
With a little bit of thought, you can choose pocket squares that will perfectly complement your tuxedo and help you stand out from the crowd.
Wearing Pocket Squares without a Tie
The pocket square has been associated with neckties for a long time, and wearing pocket squares without a tie was considered to be improper. However, the trend of pocket squares is beginning to shift, and men's fashion experts are now suggesting that pocket squares can be worn without ties.
Today, pocket squares are regarded as a stylish accessory even when worn without a tie and with a sports jacket. While it may be stylish, there are still some rules to follow so that you don't come off looking unkempt – particularly since pocket squares aren't as common as neckties.
When wearing pocket squares without a tie, it is important to make sure that the pocket square flatters the color of your shirt. You also want to make sure that the pocket square is proportional to your body size.
A pocket square that is too small or too large will look out of place. It's important to make sure the pocket square doesn't look too bulky in your jacket's breast pocket.
How to Fold a Pocket Square
A well-folded pocket square can add the perfect amount of personality and style to your outfit – but only if done right. Here are a few preliminary tips on how to properly fold pocket squares:
Use the point of your pocket square as a guide for where to start folding. Make sure you're leaving at least half an inch between this line and the edge of your fabric.
Fold each side into the center, aligning them with one another.
Now, fold the bottom up to meet the top edge of your pocket square.
Finally, tuck the folded pocket square into the front pocket of your suit jacket or blazer.
Different Pocket Square Folds
There are many more pocket square folds to choose from. Here are the most common ways to fold a pocket square:
1. The Presidential Fold
One of the most popular pocket square folds because it's simple and looks very put together, this versatile fold should be used with a stiff, high-quality pocket square. It is also known as the square fold or the TV fold.
1) Start by taking the pocket square and folding it in half, so that the two shorter ends meet.
2) Fold the pocket square in half again, this time bringing the top edge down to meet the bottom edge.
3) Now fold the bottom of the pocket square up so that it meets the top edge. This will create a small square in the center of the pocket square.
4) Flip the pocket square over so that the seams are now on the inside. You're ready to wear it.
2. The Classic Fold
Similar to the Presidential Fold, the Classic Fold has an understated look. The difference is that you can see the edge of the pocket square with this style. Therefore, it's a good idea to choose a square with a contrasting color for this look.
1) Place the pocket square face down on a flat surface.
2) Fold the square in half from left to right.
3) Fold it again from the bottom to the top.
4) Fold the square in half from left to right.
5) Place it in your jacket so that the top trim is showing.
3. The Puff Fold
The puff or pinch fold is generally considered to be the dressiest of pocket square folds, especially for evening wear. This fold is quick and easy to execute and should be done with a high-quality pocket square that has a crisp texture. The winged puff is a less frequently seen version of the basic puff fold.
1) Start by laying the pocket square flat and take hold of it in the middle by pinching it between your thumb and index finger.
2) Twist the pocket square and place in your jacket pocket.
4. The One-Point Fold
Also known as the triangle fold or single-point fold, it is created by folding one corner of the square into the center and then tucking it into your pocket. This leaves a triangular shape visible in the front of your pocket and is a popular fold for those who want to add a touch of flair to their outfit.
A lot like the puff fold, but simpler and less formal looking, it can also be used in any situation, whether you're wearing a tuxedo or just your everyday work attire. This fold is easier to achieve with cotton or linen fabric rather than silk. Variants include the two, three and four point fold.
1) Start by taking the pocket square and folding it diagonally in half to create a triangle.
2) Now take one corner of the pocket square and bring it up to meet with the top edge of the triangle, creating another diagonal line across your pocket square. Crease it firmly so that it holds its shape.
3) Flip the pocket square over so that the seams are now on the inside. You're ready to wear it.
Whichever pocket square fold you choose, just make sure that it complements your tie knot. The last thing you want to do is give the impression that you're trying too hard.
That's why, for example, it's best not to wear a pocket square that has a design on it if you're wearing an abstract or geometric patterned tie. It looks like you tried to combine both items together… even though you didn't.
How to Look After Pocket Squares
If you wear pocket squares in your breast pocket, you know how expensive they can be. Here are some simple steps that will help extend the life of your pocket square.
1. Always clean your pocket square using either a gentle hand-wash or dry-clean it. If you must use soap, only use it sparingly and be sure to rinse with cold water. You can also spot wash if needed.
2. If cleaning pocket squares yourself, always use cold water. The heat from the water will ruin the quality of the silk.
3. If you need to iron your pocket square, always use the lowest setting to avoid ruining the silk material. It's best to place a thin towel on top and to iron over this.
4. When storing pocket squares, put them in a sealed container or plastic bag so that they'll stay clean and free of dust until you need them again. Many men like to roll their pocket square instead of folding it when putting it away because it minimizes the damage done to the sharp fold crease.
5. Use fabric shavers to remove pilling or snags on your pocket square that might have occurred during wear or washing.
Follow these simple tips and your pocket squares will stay looking sharp for many years to come.
In Conclusion: Best Pocket Squares for Suits
Pocket squares have been around for centuries, and they're still going strong. If you're looking to take your suit game up a notch or just want to add some style without spending too much time on it, then the pocket square is an excellent way to do that.
They are also great if you need something small but personal enough to give as a gift. There are plenty of colors and patterns available so there's no excuse not to buy one today! Have any questions about how best to fold them? Let us know in the comments below.
With these tips in mind, you're ready to start adding some personality to your suiting with a stylish pocket square!
Read next: The Best Dress Shoes for Men | What Are Signet Rings?
Like this guide to the best pocket squares for suits? Pin for later or share with friends.
As an Amazon Associate we earn from qualifying purchases.
Luxury Columnist
Source link